NVIDIA slutar tillverka GTX 200-serien och mycket mer?
NVIDIA slutar tillverka GTX 200-serien och mycket mer?
Jag lade tråden här, rätt eller fel. Möjligt lite off-topic men jag chansar! Handlar om hårdvara iaf.
Nåja, nu till ämnet
Vet inte om ni hört något men NVIDIA verkar ha stora bekymmer. Först ut är Dell som dumpade NVIDIA tidigare i år:
Skrivet av The Inquirer, 26 maj:
FOR A LONG TIME we have wondered when Nvidia's abject stupidity would have a price. The answer, at least at Dell, is now.
If you go over the Dell desktop lineup and look through the customization options, you will see that, with a few minor exceptions, there are no more Nvidia cards being offered in Dell systems. Whoopsie. I guess the $10M that Nvidia paid Dell wasn't enough to make amends.
...
This is nothing less than a sea change at Dell. Nvidia has basically been shown the door by Dell in a most unceremonious fashion. Nvidia either decided to stop buying market share, or Dell just got fed up with it, but don't preclude both.
Sedan lägger Apple lägger upp supportinformation kring MacBook Pro med några kommentarer om NVIDIAs chip:
Skrivet av Apple Support, 29 maj:
In July 2008, NVIDIA publicly acknowledged a higher than normal failure rate for some of their graphics processors due to a packaging defect. At that same time, NVIDIA assured Apple that Mac computers with these graphics processors were not affected. However, after an Apple-led investigation, Apple has determined that some MacBook Pro computers with the NVIDIA GeForce 8600M GT graphics processor may be affected. If the NVIDIA graphics processor in your MacBook Pro has failed, or fails within three years of the original date of purchase, a repair will be done free of charge, even if your MacBook Pro is out of warranty.
http://support.apple.com/kb/TS2377
I slutet av juni börjar det sippra ut rykten om att relationen mellan Apple och NVIDIA inte är så bra heller:
Skrivet av AppleInsider, 26 juni:
The word is that Nvidia is out of Apple designs, starting with the Nehalem laptops and iMac type things. We are told the arrogance and bluster of Nvidia proposals were greeted with a response that, paraphrased, said, "Go away and don't come back for 3-4 years if you are still around as a company. Lose our number, and if you do call, we will laugh at you again."
Actually, that wasn't how it happened, the conversations we were told about were not nearly that nice, and involved far less friendly words. The 3-4 years bit was true, the rest was far more forceful.
http://www.semiaccurate.com/2009/06/26/apple-nvidia-dont-let-...
Skrivet av AppleInsider, 1 juli:
A report from this past weekend asserts that negotiations between Apple and NVIDIA are now extremely bitter after the latter's proposed terms were viewed as "arrogance and bluster" and all but rejected as-is.
Those claiming to be inside the discussions have told SemiAccurate, the new project of a previous Inquirer editor with sources inside NVIDIA, that Apple may not agree to another such deal for 3-4 years as a result of the heated words. It wouldn't result in an immediate exit, as the recentness of implementing NVIDIA chipsets into nearly all Macs means some models will keep their existing designs for a long time, but could already result in some comparatively near-term updates shedding the NVIDIA platform.
http://www.appleinsider.com/articles/09/07/01/apple_may_drop_...
Och av den tidigare artikeln från The Inquirer om att tillverkare hellre fyller på ATIs lager än NVIDIAs så står följande att läsa om NVIDIAs nya Fermi-arkitektur
Skrivet av AppleInsider, 8 oktober:
Nvidia's recent announcement of the Fermi architecture, geared toward the scientific community and not PC graphics, has led some to believe that the company is changing its business strategy and moving away from the high-end gaming market. Nvidia has denied those assumptions.
http://www.appleinsider.com/articles/09/10/08/intel_suit_halt...
Och nu detta....
Skrivet av SemiAccurate, 6 oktober:
NVIDIA IS KILLING the GTX260, GTX275, and GTX285 with the GTX295 almost assured to follow as it (Nvidia: NVDA) abandons the high and mid range graphics card market. Due to a massive series of engineering failures, nearly all of the company's product line is financially under water, and mismanagement seems to be killing the company.
http://www.semiaccurate.com/2009/10/06/nvidia-kills-gtx285-gt...
Sedan kommer detta
Skrivet av MarketWatch, 8 oktober:
LOS ANGELES (MarketWatch) -- Nvidia Corp. /quotes/comstock/15*!nvda/quotes/nls/nvda (NVDA 14.17, +0.18, +1.29%) said it's postponing development of future chipsets that work with Intel Corp.'s /quotes/comstock/15*!intc/quotes/nls/intc (INTC 20.17, +0.29, +1.46%) latest microprocessor technology because of a licensing dispute between the two companies, according to a report in the online version of The Wall Street Journal on Thursday. Nvidia will continue to make chipsets for Intel's older microprocessors, as well as graphics chips, the newspaper reported, citing a statement from an Nvidia spokesman. Chipsets connect microprocessors to other parts of a system.
http://www.marketwatch.com/story/nvidia-halts-certain-chipset...
Inte för att vara för pessimistisk men.. vafan händer med NVIDIA?
För skojs skull lägger jag upp aktiekursen nedan för NVIDIA, kan ju bli intressant att följa kommande tiden:
---
I believe that if life gives you lemons you should make lemonade & try to find somebody whose life has given them vodka & have a party - Ron White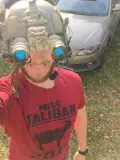 Citat:
Nvidia meddelar dock att den dåliga tillgången på grafikkort har helt andra orsaker, som att partnertillverkare passar på att tömma lagren innan Fermi lanseras och att efterfrågan på grafikkort är hög. Företaget har heller inga planer på att dra sig ur delar av grafikkortsmarknaden.
Grafikkortstillverkaren går till och med så långt att de anklagar Demerjian för att i praktiken vara köpt av AMD. Marknadsföringschefen Ken Brown kommenterar:
Citat:
There is no truth to this. Charlie has become a sponsored site of his sole advertiser. It's no coincidence his website looks like an AMD ad.
Som NVIDIA svarade.
---
Grinder and paint
Makes me the welder I aint
Skrivet av Vozk:
Äntligen kan underskattade Ati välkommna sina ljusa dagar.
De har redan sett ljusa dagar med 9xxx serien, x19xx, 48xx, 58xx. Säkert längre bak ändå men iaf;)
---
ASUS Z87 Deluxe - 4770K 4,4GHz@1,25v - Noctua NH-D14 - GTX780 DCII@1241 - XMS3 8Gb 1600MHz - Asus Xonar Phoebus - OCZ Vertex Max IOPS 240Gb