IM UP, IM UP!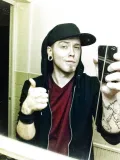 IM UP, IM UP!
Yeah im up, Ingrid woke me up just before she went to work. Dont really know why, al she did was running around and was stressed out. Looking for her headphones and stuff.
I'm soon about to take my shitty laptop downtown to Soundstore and tell them they can shove it.
Then im taking Ingrids mac top Macstore to change battery.
And then im posting something for Ingrid.
Lots of stuff planned for today, will also try to find a pair of new headphones, the skullcandys i bought like two months ago got fucked up and the left one stopped working, crap!
Prob a bit my fault as well, i always wear down headphones as other people use shoes or something like that (a lot anyway).
WE ARE 138!
---
SO SEXY YOU FUCK MY SHADOW