What age do you want to live to?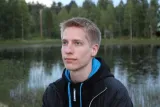 What age do you want to live to?
I samband med min födelsedag tänkte jag att jag kan publicera en liten text som jag gjorde på engelskan på skolan. Vi fick välja en av flera rubriker angående ålder och jag valde "what age do you want to live to?".
Här är mitt resultat:
I want to live forever - on Earth. Yes, that's true. Many would say "no, I don't wanna live forever but maybe 200 years". I say that I want to live forever. 70-90 years is way too little. I like to be on the Earth. I would like to make a change on Earth. I don't like thinking that I probably have lived one fourth of my life already. Time has gone fast and according to psychological studies time will go faster and faster the older you are. Childhood will feel very long while pension age will be fast as lightning. So when you're 65 you can as well dig your grave.
I'm actually an optimist. Maybe it's not so obvious when you've read the text above, but I can assure you that I'm an optimist. For me the thought of death isn't comfortable, though. So it's not easy to be optimistic about it. I'm not sure what happens after death (no one can be). But my most qualified guess is that nothing happens. You will be terminated. You can't feel anything anymore. You can't think. It's not even black - it's nothing.
Before when I was younger I was a Christian. I never worried about death. After death I would be in heaven and meet friends, relatives, Jesus, angels and God. Realism struck me hard though when I grew older. And with it came the fear of death.
All living creatures wanna survive. The difference between humans and other creatures is that we can imagine our death. We can grasp that one day we will be no more. Religions have used that to make people do things with a promise of a good afterlife. Religions have always given hope of a life after Earth, though. And that can be considered to be good. But now we're living in educated and enlightened times - so we're losing the religion. And therefore also losing the idea of a life after death.
We haven't given up our hopes of living forever, though. The science suggests that a human brain can be transferred to a robot to live a very long time. Maybe even the brain can be replaced to non-organic material. At the moment this is science fiction and maybe it will never happen. At the sixties mankind thought that we would inhabit March year 2000. We have barely been at moon and it's soon 2010.
There's a place in America where you can order a freezing box for yourself. It works that way that you can freeze yourself in if you have an incurable disease or if you're close to dying. Then you will be unfreezed in the future when mankind has the cure for the disease. Does it really work? Many doubt it. But it's yet another desperate try of mankind to get access to eternal life.
At the moment I'm sure that I want eternal life. But what if I'm happy with my life when I'm 80? What if I feel that I've been living enough? Many old people are saying that. They have lived their lives and it's time to make place for new generations. They are cool with that.
What if I am cool with dying when I'm old? What if this text would seem funny to me then?
Time will tell...