Bioshock and the life of an unreleased video game
Bioshock and the life of an unreleased video game
Since I traveled with a few Irrational guys on my short trip through The New World, I got a chance to see Bioshock in quite some detail. This game has been in production in almost four years, which is a very long time for a video game. Now, I know how developing a game for a long time can be from a developer standpoint, but I've never spent much though on how the world's perception of a game can evolve as well.
Bioshock was introduced to the world last E3 and was perceived by many as the Game of the Show. This gave me great pleasure since the game was so wonderfully weird and original. But things seemed to go downhill after E3, at least from my perspective. For every new screenshot or video released, my vision of what the game would be grew further away from what I wanted it to be. This may not be uncommon, but for Bioshock it really drained my enthusiasm. I've been talking to some people at Irrational from time to time during this last year and heard their perception of this as well as some of the development issues they have been facing, which has been extremely interesting. It has made me realize how connected the perception of an unreleased game affects the perception of its developers, and how that probably affect how the game turns out in the end. Isn't that something that is very unique with this media?
So, what am I getting to? Not very much other than that after this trip, all my faith in Bioshock has been restored. It may not be the game that I dreamt it would be after last year's E3, but Irrational have turned my perfect dream into something just as good. So, just as I did last year, I once again believe it will be great. Even one of the Great Ones. August 21 will tell.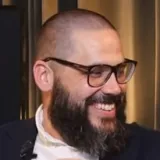 Plats: Internetz
Medlem sedan: dec 2001
Bioshock and the life of an unreleased video game
När ett spel presenterat blir jag ofta väldigt överentusiastisk och med dagens mediaflöde av terroristmått har jag ofta tröttnat på titeln innan den ens kommit ut. Det är iof enkelt löst, skippa alla filmer, bilder och intervjuer. Jag har misslyckats en smula i det tankesättet med #Bioshock, det är så förbannat snyggt så jag kan inte låta bli.