[float="right"][ix="45098;w128;h96"]border: none;[/ix][/float]
Med blott tre dagar kvar - officiell lansering 4 december - har #Microsoft sent om side släppt officiell information om vad den årliga och blott 7 MB tunga höstuppdateringen för [[Xbox 360]] skall innehålla. Ett av de mest efterfrågade inslagen torde vara det utökade stödet för så kallade videocodecs - bland annat för de populära formaten [[DivX]] och Xvid. Uppdateringen öppnar därmed dörren för att strömma merparten av alla typer av videomaterial i realtid direkt från datorer till 360-konsolen.
Bland övriga nyheter nämns - frånsett föräldratimern, möjligheten att köpa och ladda ner gamla [[Xbox]]-spel samt [n=22857 Friends of Friends]-funktionen - följande:
Utökad spelarprofil - i ett uppenbart led att stärka communitykänslan skall varje 360-användare kunna kortfattat presentera sig själva på sitt så kallade [[GamerCard]]. Denna information skall antigen kunna vara synlig för alla eller endast för spelare på kompislistan.

Xbox Live Arcade Hits - några av de bäst säljande Live Arcade-titlarna skall begåvas med permanenta rabatter (enligt ett pressmeddelande handlar det genomgående av 50% prisavdrag). De första spelen att beröras sägs vara #Bankshot Billiards 2 och #Lumines LIVE (sägs kosta 800 [[Microsoft Points]] styck, motsvarande 90 kronor) samt #Marble Blast Ultra, #Small Arms och #Zuma Deluxe (sägs kosta 400 poäng, motsvarande 45 kronor).

Inside Xbox - en funktion genom vilken 360-användare bland annat skall få reklamerbjudanden och annan spelrelaterad information direkt från spelsajten Xbox.com.

Förändringar i menysystemet - det så kallade Dashboard-systemet skall genomgå en mindre revidering. Bland annat skall tidigare spelade demoversioner av arkadspel inte längre synas i användningshistoriken - en i sig blygsam nyhet som likväl efterfrågats en längre tid. Övriga Dashboard-förändringar innefattar allt från förbättrat stöd för hemmagjorda XNA-spel till utökade MSN Live Messenger-funktioner.
Vid sidan om de förändringar som direkt berör 360-[[konsol | konsolerna]] framhåller Microsoft ett par administrativa förändringar - dels möjligheten att uppgradera begränsade barnkonton till fullfjädrade Xbox-konton, och dels möjligheten att knyta ett 360-konto till ett annat Live-konto.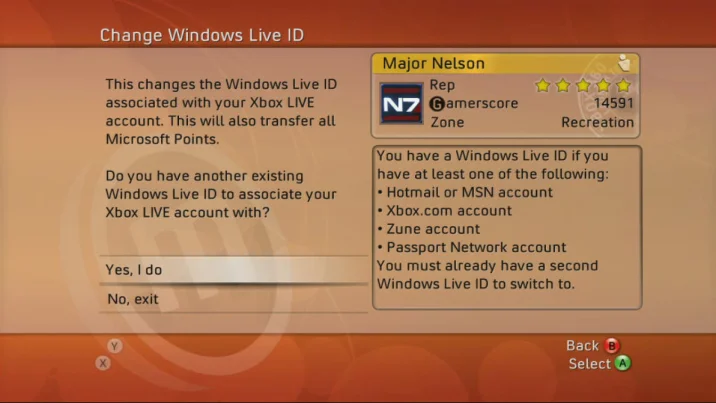 FZ har kommit över en handfull skärmdumpar tänkta att att närmare illustrera vad tisdagen har i sitt sköte. Läsare som därtill vill se nyheterna i rörliga bilder hittar ett 21 MB tungt filmklipp i filarkivet där ett par shortsklädda talesmän i entusiastiska ordalag redogör för höstuppdateringen.
[v=1570]
I vanlig ordning är höstuppdateringen kostnadsfri för alla 360-användare som har sin konsol ansluten till Internet. För den som vill mer eller mindre begrava sig i samtliga nyheter har FZ dessutom lyckats gräva upp förteckningen över samtliga förändringar - drygt 300 olika justeringar av olika dignitet.
Account Management

Added error text to direct under 13 year old user to the Web when attempting to change contact information

Added Messenger Signup into Xbox LIVE signup

Added PEGI logo icons to Game ratings scenes

Added support for switching between Windows Live ID accounts

Added Support for User Graduation

Added support to allow users to change the Windows Live ID they use with their Xbox LIVE gamertag

Added support to Migrate Zune Accounts to Xbox LIVE accounts with purchase rights

Added text for "in-game voice" complaint option

Display MS Points Web Address correctly for Korea

Improved blocking support for Friends Only sessions

Improved enforcement of Windows Live ID and Gamertag Regions

Improved Informational Text for cases where Gamertag already in use

Improved parental control support for 48 hour trial codes

Improved robustness when viewing friends profiles and quickly backing out

Improved support for account recovery when no storage devices attached to console

Improved support for invalid characters in phone field

Improved support to cancel out of Credit Card scenes during account sign-up

Improved support to load Dashboard after exiting from Account Recovery

Improved text for accounts that have been banned

Improved text for Direct Debit in Germany

Improved text for explaining Gamertag, Gamercard, etc to users signing up

Improved text for recovering Gamertag dialogs

Improved text for Zune Accounts in Sign Up app

Improved text spacing for Recover Gamertag dialogs in Russian

Improved text support for handling expired credit cards during purchase transactions

Improved text to inform users that only 1 profile can have auto signin enabled

Improved text translations for Account Management in Germany

Ads

Added support for Audio Mute/Unmute for video ads

Community

Added double-high friends list to show more details for each friend

Added new feature "Inside Xbox" on the Xbox LIVE blade

Added support for richer profile viewing including Real name, Bio, Locations, etc

Added support to control privacy settings for Friends of Friends viewing

Added support to show friends a real name

Added support to view Friends of Friends

Display actual friends count and not list item count in Add Friend page

Improved German localized text for recent players blade

Improved robustness in Friends area when rapidly pressing A and B buttons

Improved support of viewing Friends profiles when friend has existing pending friends requests

Improved text messages for Privacy Settings in Blocked Communication scenarios

No longer report Invitations as 'sent' when communication set to 'blocked'

Dashboard

Added ability to twist UI left and right to filter/sort in Media lists

Added 'Downloads' button to game launch page on Games Blade

Added fade out transitions for transitions from dash to video playback

Added Friends Playing Now feature to Games Blade for Xbox LIVE Arcade, Xbox Originals, Xbox 360 disc based games, and Xbox 360 Demos.

Added grouping support for TV & Game content in Media Blade

Added localization support for AM / PM in 12-hour clock format for Traditional and Simplified Chinese

Added sort by Title/Date for acquired Video library content

Added support for Featured Downloads in Arcade area of Games Blade

Added support for twist controls in offline Dashboard and Xbox Guide

Added support for updating Marketplace, Xbox LIVE and Games blade without full system update download

Added support for Video album art on attached hard drives in separate .jpg files

Added support to not write trial-version Arcade games to user's played games history (this is only for newly downloaded games after the Dec'07 update is released)

Allow all signed in users to access Banners in Dashboard or Marketplace, not just first signed in user

Arcade area shows '--' instead of '0' for gamerscore when signed out

Changed UI Flow for Media connectivity: default to console, and allow users to change device via X button. Also remember last chosen device

Disconnected MU or Controller Message persisted when launching back to Dashboard from Game Title

Improve accelerated scrolling speed for long lists

Improve transition speed of blades

Improved consistency in confirmation text when deleting items

Improved enumeration speed of lists in games blade

Improved error handling when signing out while viewing a marketplace ad

Improved handling of moving game profiles from MU to HDD

Improved localization text for Polish in System Update dialogs

Improved performance of Guide Transitions

Improved progress bar accuracy when moving large files from MU to HDD

Improved responsiveness of Dashboard overall

Improved robustness after attempting to resume an expired purchased video

Improved robustness when comparing achievements after connection to LIVE is lost

Improved support for Daylight Savings Time in Alaska time zone

Improved support for handling disc full when downloading movies from Marketplace

Improved text layout for blade names in CHT (Traditional Chinese)

Improved text on Startup page in System Blade area

Improved text translations for Arcade area in Japan

Removed PC Affiliation from the System Blade

Starting DVD playback with 2 or more wireless controllers shows all game pads on the console ring of light

Starting DVD playback with a mix of wired and wireless controllers now shows all game pads on the console ring of light

System Update Message in Russian properly formatted

DVD / HD-DVD

Added CHT language support to video players

Improved accuracy of tray state when ejecting multiple times

Improved robustness when ejecting discs from external HD-DVD drive

Family Settings

Added Family Play Timer Feature

Improved handling for resetting parental controls to default

Font Support

Added support for Virtual Keyboard and IME for Simplified Chinese

Improved CHT (Traditional Chinese) font support for game achievements

Gamer Profile

Dates and Times support region specific attributes

HDMI

Improved handling of AVMUTE for HDMI

Improved handling of CEA861 mode for HDMI

Improved handling of flashing during on/off mode changes

Improved handling of Standby-3 mode for HDMI

Keyboard

Added IME indicator for Messenger Conversations

Added support for F9 and F10 in Virtual Keyboards

Added support for Polish and Russian USB Keyboards

Improved Chatpad support for Korean Language

Improved handling of Caps Lock for JPN USB keyboards

Improved IME Japan Keyboards in Xbox Guide

Improved overall IME Self Learning support

Improved support for USB Keyboard with System UI Message displays

No longer show keyboard results when entering password via Chatpad or USB Keyboard

Removed extra '@' from CHT Virtual Keyboard

Marketplace

Added "Featured Items" as a top level section of Marketplace

Added "Featured Trailers" and "Shorts" options within the Movies area of Video Marketplace

Added Accelerated List Scrolling to Marketplace

Added List wrapping to Top Download lists in Marketplace

Added prefetching support for off-screen thumbnail images in Marketplace list views

Added support for "New Arrivals" area within Marketplace for all catalog content types

Added support for "Spotlight" area within Marketplace

Added support for displaying audio support in top level UI for videos on Marketplace

Added support for displaying Marketplace video previews in Full Screen mode (newly added files are encoded at higher bitrate, existing previews remain encoded at low bitrate)

Added support for multiple previews (varying languages) for International Video Marketplace (this is content provider dependent)

Added support for renting Movies in several international countries

Added support to Browse, Purchase, Download and play Xbox Original Games

Added support to cache metadata information for off-line usage in Media Blade library scenes

Added support to Play Now from Marketplace storefront for items already downloaded

Added support to prefetch off-screen thumbnails in Video Store

Added support to send actionable Marketplace recommendations to Friends for Arcade games

Added support to show audio language and subtitles for International Video Marketplace

Added Twist Control support for navigation and sorting

Allow Banner Messages to link to Arcade Titles

Changed "Media and Entertainment" to "Video Store"

Improved error handling for corrupt video content

Improved localization text for Belgium Profiles with Netherlands Marketplace

Improved robustness when service returns incorrect number of items when viewing Download History

Improved support of Parental Ratings with Arcade recommendations

Improved text for cases where License is not available for purchased video content

Improved text messaging for playing rental movies on consoles other than the console purchased with

Improved User Experience for Credit Card scenes in Russian

List wrapping functionality identical now between Media blade and Marketplace blade lists

More robust error handling for Add Points dialog page

TV Series on Marketplace now navigate directly to episode list instead of Season1

Unrated Titles now display ratings as "Rating: Pending or Unrated"

Media - All

Added more user friendly text for various error related messages

Added Shortcut keys from Remote Control: Pressing Play on a Video/Song/Picture will immediately start playback of that item from the list (pressing Start from gamepad does the same thing)

Added support for Album/Video artwork larger than 500kb

Added support to enumerate metadata in the background and not just when selected by the user

Added support to make sort options sticky across console reboots

Added support to show all available Media Sharing Servers on the local network and allow automatic re-affiliation

Automatically delete older versions of Optional Media Update package when new ones are downloaded

Improved consistency in storage naming across all areas

Improved performance for displaying Album Art when connected to remote sources

Improved text messaging when connection to PC is lost when streaming Music/Photo or videos

Media - Music

Added support for CD Playback from music area in Xbox 360 Guide area

Added support for listing multiple computer sources in Xbox Guide music sources

Added support for Y button to toggle full screen on and off for music visualizer

Disable 'play all' button when folders only contains playlists (with no audio files)

Disable Y button when no list items selected in Music player

Improved device support for new iPods (classic and 3rd gen Nano) - iPhone and iPod touch are not supported

Improved error handling for mixed encoded playlists (aac,mp3,wma)

Improved handling for MTP Music devices with >200k entries

Improved handling of game background music after playing videos in Dashboard

Improved handling of music playback over games (if music source terminates or has errors, background music returns to game background)

Improved performance for "Play All" with attached MTP devices

Improved performance of music enumeration via Guide

Improved robustness when playing back HFS+ formatted iPods

Improved support for returning to game background audio when user's music player session terminates

Improved support for scrolling song lists while listening to music during game playback

Improved support when ejecting game disc while selecting music source through Guide

Media - Pics

Added support to display PNG files when streamed from Windows Media Player 11 on Vista

Improved enumeration for PTP cameras including Cannon Powershot SD 630 and Apple Iphone

Improved playback performance of "Play All" when PC source has 1000s of photos and subdirectories

Support Folder view of Photos from MTP Portable Devices

Media - Video

Added 2 line support for entries in the Video Area of the Media Blade

Added ability to recognize Colorspace attribute for Video Marketplace Content

Added fade in transition for start of video playback

Added full screen buffering animation for streaming videos from Xbox LIVE

Added Suggestions scene for Video Library area in Media blade of the Dashboard

Added support for 16x Fast-forward/Rewind

Added support for AC3 embedded audio (see video faq for full information)

Added support for enumeration of video files from Zune 2.0 devices

Added support for Left Shoulder button on controller to chapter skip backward

Added support for Left Trigger button on controller to rewind

Added support for moving past the point user has viewed when doing progressive downloads of Video Marketplace videos

Added support for MP3 embedded audio (see video faq for full information)

Added support for Mpeg-4 part 2 video files in AVI containers

Added support for Right Shoulder button on controller to chapter skip forward

Added support for Right Trigger button on controller to fast forward

Added support for Zune Podcast video playback from Zune device

Added support to display metadata and thumbnails embedded in video files

Added support to enumerate .divx video files

Added support to group TV shows by Series in Video Library of Media Blade

Added support to group Video and Game Trailers into same area of Video Library of Media Blade

Added support to sort Movies or TV Shows by Title or Download date in Video Library of Media Blade

Added top level support to show expired or soon to expire information for purchased movies from Video Marketplace in Media Blade

Improve support for "Play Now" calculations with ISP that boost download for the first 20MB of a file

Improved accuracy of bookmark positions when video player abnormally ends

Improved accuracy of download progress bar after chapter skipping operations

Improved auto resizing experience for small (under 100x100) video files

Improved Bookmark / Resume experience with 60fps Interlaced WMV videos

Improved bookmark support while progressively downloading videos from Marketplace

Improved calculations for "Play Now" for Video Marketplace downloads

Improved deinterlacer support for video playback

Improved enumeration speed for user-generated video content in Media Blade

Improved error message support when playing back video files without valid licenses

Improved error message support when pulling USB drive while playing back video files

Improved handling for USB memory stick removal while on Video device selection list in Media blade

Improved handling of video playback when transitioning from 4x FF to Play with MP4 video files

Improved handling of WMV bookmarks when rewinding and shutting down video player

Improved info pane timer when playing back DRM's WMV content from Windows Media Player 11 from Windows PC

Improved message support for progressive video playback

Improved overall UI, content descriptions and navigation of Video Library of Media Blade

Improved performance during Fast Forward to Playback transition when playing back MP4 content

Improved performance for buffering and playback of streaming videos from Xbox LIVE

Improved performance for low bandwidth streaming of MP4 videos from Zune PC software v1.0

Improved performance of skip forward/backward with WMV video files

Improved performance of trick modes when streaming videos from Zune PC client

Improved performance of WMV playback for WMV7 & WMV8 encoded video files

Improved playback experience after extended pauses of video files from Marketplace

Improved playback experience when resuming from a stopped/paused state

Improved playback performance for h264 720p .MOV files

Improved playback performance with 1920x1080 MP4 files

Improved playback performance with 5Mb h264 encoded video files

Improved playback performance with 60fps 720x480 MP4 content

Improved playback performance with h264 files in .m4v containers

Improved quality for upscaled user videos when played back full screen

Improved quality of MP4 decoder: Global Motion Compensation and VMX optimizations

Improved quality of MP4 decoder: improved Interlaced Support

Improved quality of MP4 decoder: Out of order frame output, bidirectional motion vector handling, etc.

Improved quality with non-square pixel video files

Improved responsiveness of trick mode controls for video playback

Improved robustness during chapter skipping of h264 video files

Improved robustness for streaming problematic video files from Zune PC Software 1.0 or Windows Media Player 11

Improved robustness of video player when playback catches up to downloads in progressive playback scenarios

Improved robustness of video streaming when network congestion / stalls occur

Improved robustness when closing video player after attempting to play a video file that would not open

Improved robustness when entering and exiting video playback on a portable device repeatedly

Improved robustness when exiting video files encoded in h264 and playing back from attached USB HDD

Improved robustness when playing back Mp4 video with consecutive bad aac samples encoded into it

Improved robustness when shutting down console during h264 video playback

Improved robustness when trying to play a video recently moved from MU to HDD or vice versa

Improved robustness with video player when exiting player via Xbox Guide button -> Y

Improved support for AAC-LC 2 channel encoded audio in MP4 video files

Improved support for chapter skipping during progressive downloads of Marketplace Video content

Improved support for MP4 video files with discontinuous time stamps encoded in

Improved support for MP4 video playback from burned optical dvd-r's

Improved support for resuming downloaded videos after reaching end of an uncompleted download

Improved support for resuming partially downloaded videos from Marketplace

Improved support for using Big Button controller during video playback

Improved support for Video bookmarks when playing MP4 videos from USB portable hard drives

Improved sync of video display and info pane display when rewinding

Improved text for Windows Media Center setup instructions

Improved Trick mode support when streaming videos with AAC embedded audio

Improved video performance for 60fps interlaced WMV videos

Improved Video performance with 15Mbs 1080i 24fps WMV video files

Improved video playback for Fast-forward and immediate exit usage with h264 video files

Improved video playback of MP4 content from Zune PC Software v1.0

Improved video playback when source content has incorrect sync samples encoded

Improved video quality for SD Composite AV pack displays of the on-screen display for video controls

Improved video support for chapter skipping of MP4 videos

Improved Videotrick mode support with 24fps 1080i WMV video files

Improved visual display of WMV video files while rewinding

Improved WMV Playback performance for 60fps and 1080i 30fps videos

Improved WMV7 performance with VLC encoded content

Removed occasional purple flickers in video playback when transitioning between FF and RW

Removed potential 9 second delay when rewinding WMV video files

Messaging

Removal of stale Xbox 1 Team Recruit Messages from Xbox 360 Message Center

Messenger

Added "Invite Friends" scene after Messenger/Windows Live ID switching dialog

Added localization support for "<user> has joined conversation" in Messenger

Added messenger notification to Private Chat

Added support for adding contacts via Windows Live ID from Xbox 360 console

Added support for child accounts (ages 13 through 17)

Added support for dual platform invites / text messages to PC client

Added support for IME in Chatpad overlay

Added support to send game invite to Messenger Contact from Xbox 360

Display Signin option instead of Join Xbox LIVE when accessing messenger from a signed out profile

Improved handling of transitions between messenger conversations and personal profiles

Improved localization text for Spanish, Portuguese and Russian in Chat and IM dialogs

Improved online status reporting with accounts that have passcodes set

Improved performance of buddy list enumeration

Improved performance with greater than 250 contacts

Improved performance with Messenger and large lists

Improved support for sending multiple friends requests from messenger contact dialog

Improved support for signing up for Messenger on 2nd signed in profiles

Improved sync performance between buddies and gamertag friends during login

Improved text message for blocking Windows Live ID Child accounts

Improved visual display of Up/Down arrows on Select Contacts scene

No longer displaying '??' when Kanji characters are used in Messenger Display Names

Nudges from messenger now translated into rumble notifications on controller during game/movie playback

Remove flash of LED on controller when Chatpad keyboard is invoked

Removed 2nd notification when connection to LIVE and signed into Messenger

Updated icons for Messenger in Private Chat area

System

Added fade out transition when powering down console

Added support for browsing XNA games within the Games blade

Added support for video playback from UDFS formatted USB devices

Added support for XNA Game Studio Express V.2

Added support to connect to Apple Extreme routers in 802.11a/n mode

Added support to pause background downloads when streaming full screen videos or ads

Added support to retrieve game thumbnail directly from XNA game package

Added system wide support for Simplified Chinese language

Added text to explain flashing LED in the Ring of Light during background download low power mode

Addressed rare case where game disc would spin in the DVD drive while playing HD-DVD Movie in external HD-DVD drive

Disable Optical audio output when in low power background download mode

DVD player no longer converts to YCbCr709 when output is over HDMI

Improved auto sign-in to Xbox LIVE with Xbox 360 Wireless Adapter

Improved clock accuracy for S/PDIF optical streams

Improved compatibility with NEC WR8400N WiFi routers

Improved download speeds when in low power background download mode

Improved DVD Tray State notifications immediately after application of System Update

Improved Forced Aspect Ratio Changes via HDMI output (including DVI)

Improved handling when ejecting game disc during game start

Improved handling when removing MU after sending Arcade game recommendation to friend

Improved localization text for Wifi setup in German

Improved performance for Game Titles to reboot in backcompat scenarios

Improved performance of Xbox Guide during Messenger signin

Improved robustness when ejecting game disc when prompted for game title update

Improved robustness when inserting two MU's at the same time on the device selector scene

Improved support for 3rd Party Controllers

Improved support for Buffalo WiFi routers

Improved support for Creston AV receivers with HDMI

Improved support for JPN Corega CG-BARFX network router

Improved support for signing into Xbox LIVE with Big Button Controller

Improved support for starting console with Big Button Controller when console is charging attached Wireless Controllers

Improved Xbox guide performance ~2x

Removed "Windows-based PC" from Computers area in Systems blade

Removed option to "Turn off Controller" when using Big Button Controller

Resync the Ring of Light pattern to the boot audio/animation

Updated copyright dates for 2007
Sist - och i sammanhanget sannolikt minst - beskedet om när film- och tv-tjänsten Video Marketplace lanseras i Sverige lyser fortfarande med sin frånvaro. FZ erfar dock att ytterligare information i frågan är att vänta inom en vecka.
</user>