Resident Evil Zero "Remastered"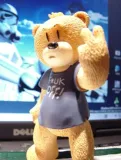 Plats: Stockholm
Medlem sedan: okt 2009
Resident Evil Zero "Remastered"
The 2002 GameCube 'Resident Evil Zero' will be getting a remastered HD edition in early 2016 across most platforms. The game was a prequel to the first Resident Evil game in the franchise.
Capcom released information on the game earlier today, with a trailer and a couple of images.
The main protagonist of the game will be Stars officer Rebecca Chambers and convict Billy Coen.They are fighting to survive the outbreak of the Zeds in the Arklay Mountains, While on a mission with Bravo team investigating murders.
The new features expected for the game are as follows from a quote:
"Return to the series origins – Discover the truth behind what led to the horrors at the Mansion in Resident Evil in this fan-favorite and popular prequel title to the series.
Completely enhanced visuals – New high-resolution textures have been created from scratch, including 1080p support on next-gen consoles, while still preserving the classic appearance of the original release.
Fully remastered sound effects – 5.1 surround support provides a more experiential gaming atmosphere that best matches players' listening environments.
Relive the classic horror in either its original settings or modified to modern-day standards:
Experience the horror in the classic 4:3 ratio or newly added 16:9 widescreen mode.
Play with the classic control scheme, or enjoy a new alternative scheme where the character moves in the direction of the analogue stick."