Luftmans Musik-Kalender: #8
Luftmans Musik-Kalender: #8
Dagens Tema:
Civilization
Oj vad klockan blev mycket innan jag la upp denna, ber om ursäkt.
Anyway, kommer ni ihåg gårdagens lucka som var väldigt episkt-metal inspererad?
Vad sägs om något HELT annat idag då?
Favoritlåt:
Civilization IV: "Baba Yetu"
Återigen så hittar jag bara en enda låt som "står ut" ur mängden, men oj vad bra den är!
Problemet med denna låt är att den är så himla trevlig att lyssna på att man aldrig kände för att starta spelet alls, man fastnade bara i titel screenen och lyssnade på låten... jag iallafall...
Mer bra låtar:
Brentalfloss: "Civilization with Lyrics"
Som sagt så kunde jag inte komma på någon annan låt ur denna serie som jag tyckte var direkt minnesvärd, men det hindrar ju inte mig att posta en annan version av samma låt ! För er som aldrig hört talas om Brentalfloss har mycket hemläxa till imorgon.
Kul fakta:
- Med expansionen Gods and Kings så tycker jag att Civ 5 är det bästa i serien ... SUCK ON THAT!
Återigen ber jag om ursäkt om förseningen, kommer bli en hyffsad sen lucka imorgon också tyvärr, men den som väntar på något gott! (...väntar alltid för länge)
P.S. Om ni har några förslag på någon speciell serie som jag ska ta prata om, skriv det nedan!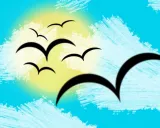 Luftmans Musik-Kalender: #8
Haha, var nära att missa att du lagt upp det. Letade efter den enstaka 8:an men kunde inte finna den Dock bättre med en sådan här titel, någon mer läsare borde du kunna få då ^^
Bra låt f.ö, aldrig fastnat för Civ-spelen men bra musik kan de iaf göra ibland ^^